COVID-19 OPERATIONAL NOTICE:

The cemetery will remain open for visitation. Please limit visitations to less than 50 people per visit.

Per the current directives of Virginia state officials, Andrew Chapel Cemetery is currently allowing GATHERINGS of up to 50 individuals. This includes ALL memorial services related to interments.

MASKS are REQUIRED to be worn by all burial service attendees, with social distancing of 6 feet apart. PLEASE do not congregate over the grave.

For the safety of the cemetery staff, the grave digger, the vault manager, and funeral home managers, we ask that atendees PLEASE MOVE 30 OR MORE FEET AWAY FROM THE GRAVE upon completion of the service.

LOT SELECTION CONSULTATIONS:

There may be circumstances where families need to choose a cemetery lot or lots prior to a full casket burial. We are here to help, but we also ask for the cooperation of the family, to minimize personal contact.

Because on-site lot consultation meetings typically involve close contact with the immediate family members of the deceased, the cemetery staff would like to reduce the risk of these meetings as much as possible. We are asking families to follow this protocol for lot selection:

- FIRST - PLEASE Contact Dirk Johnson, the cemetery Superintendent at 703-406-4698 (office, preferred), or 703-618-3215 (cell) or via email at andrewchapelcemetery@gmail.com.

- The superintendent can assess your family needs (both immediate and future) and make recommendations regarding specific lots.

- He will ask you to refer to the online availability maps regarding lot availability and how to use them on-site.

- If possible, PLEASE then visit the cemetery with your family, and refer to the maps to locate available lots. The cemetery superintendent can readily assist via phone while you are there. He has photos of the monuments, and he can easily orient you during your visit.

- If that is not sufficient to make a lot selection, the superintendent is available to conduct an on-site lot consultation, but ONLY if very strict distancing rules are agreed. There will not be close contact interaction, under any circumstances.

Our apologies for these policies during these challenging times.


---
Andrew Chapel Cemetery is a non-denominational, well-financed cemetery dating to 1854.

Lot sales are open to the public.

Several hundred lots and columbarium niches are currently available.

A History of Andrew Chapel Cemetery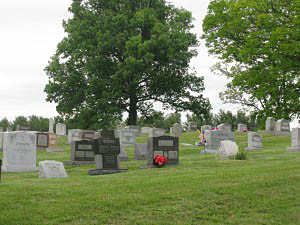 Andrew Chapel Cemetery was established in 1854 on the grounds of the original Andrew Chapel Methodist Episcopal Church.

In 1909 the community enlarged the cemetery by purchasing one acre of ground from Hattie R. Jackson. In 1919 an additional one and one-half acres was purchased from John M. Barbee and Hattie R. Barbie.


In 1958 the trustees purchased two acres from George P. Hughes to complete the space needed for future expansion.


From its inception the cemetery association has been a nonprofit organization under the responsible leadership of Trustees who have volunteered their time and service.

In 1991 the association was incorporated in the State of Virginia. As a not-for-profit corporation the trustees became a Board of Directors with a slate of officers who are elected annually and as in the past, still remain volunteers.

Financially Sound Corporation

Presently, Andrew Chapel Cemetery is situated on five acres of property. Perpetual care of the cemetery is provided through the financially stable Corporation. The operation of the cemetery is supported by safe investments of funds from sale of the lots.

Family-friendly Approach to Operations

Andrew Chapel Cemetery board members maintain a personal interest in the operation and maintenance of the cemetery, with family members and life-long friends interred in the cemetery. We understand that the cemetery is a place for tribute to loved ones, and our policies reflect this commitment.
Take a video tour: