COVID-19 OPERATIONAL NOTICE:

The cemetery will remain open for visitation. MASKS are REQUIRED to be worn by all burial service attendees, with social distancing of 6 feet apart.

For the safety of the cemetery staff, the grave digger, the vault manager, and funeral home managers, we ask that atendees PLEASE MOVE 30 OR MORE FEET AWAY FROM THE GRAVE upon completion of the service.
---
Lot Availability


Andrew Chapel Cemetery is non-denominational, and lot sales are open to the public.

The section map is shown at the bottom of this page. Sections A, B, C, D are sold out!

---
Cemetery Regulations and Burial Policies

Please click here to read our current burial policies regarding scheduling, requirements, lead times, limitiations, grave digging pricing and more. Our complete policies and regulations are posted here.
---
Section E:
Burial Lot, Section E: $3,000.00 per lot,


Click here to view the Section E lot availability map
Section F:
Burial Lot, Section F: $3,500.00 per lot.

Click here to view the Section F lot availability map
Columbarium:
1 Columnbarium Niche: $1,500.00 each many are available.

Click here to view the Columbarium availability map


All prices and policies subject to periodic change without notice! Interment fees apply to ALL burials and niche placements. Please see our pricing and policies page

here

.
---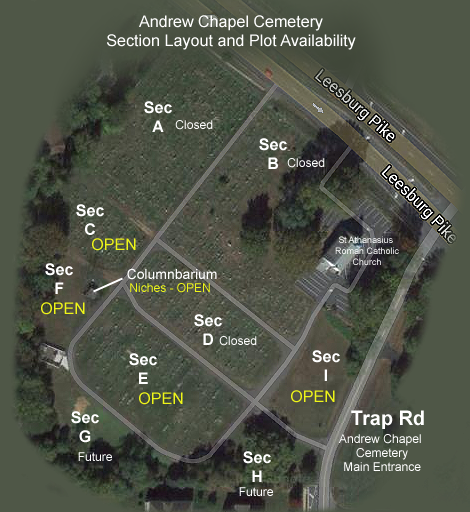 Directions
Andrew Chapel Cemetery is located at the Southwest corner of Trap Road and Route 7/Leesburg Pike in Vienna, VA 22182, with the main entrance off Trap Road.
Google Map Link
Contact Us
By email (PREFERRED, PLEASE!):
AndrewChapelCemetery@gmail.com
By Phone: (703) 406-4698 office
Emergency only:
703 then 618 and 3215
_______________________________



Take a video tour:

_______________________________

Board President
Michael Miller

Board Vice President
Cynthia Hughes

Board Secretary
Ronald Hughes

Board Treasurer
John Day

Member
Mark Burns

Superintendent (non-board)
Dirk Johnson _______________________________


Please note that the Andrew Chapel Cemetery Association is not affiliated with the Andrew Chapel United Methodist Church, located across Trap Road, nor the Saint Athanasius Roman Catholic Church, which is located adjacent to the cemetery.

Please do not contact either of those organizations regarding cemetery matters.
---
We would like to thank:
---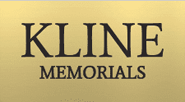 http://klinememorials.com/
703-368-5013
---
http://www.easternmemorials.com/
703.393.0999